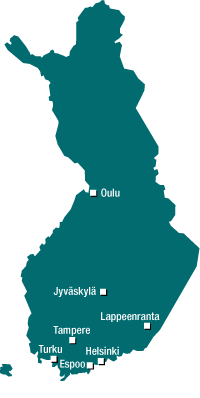 Note, the official M-grid pages are on CSC's new website at this URL: http://www.csc.fi/english/research/Computing_services/grid_environments/mgrid

Instructions for getting a grid certificate are at the following URL: http://www.csc.fi/english/customers/university/grid_certificates
---
Material Sciences National Grid Infrastructure
Material Sciences National Grid Infrastructure (M-grid) is a joint project between CSC, seven universities and The Helsinki Institute of Physics (HIP). The project consists of building a computer network in which computers are situated at different locations but are in shared use through grid technology. The systems are connected to the Nordic NorduGrid network, but access is currently limited to M-grid partners and CSC customers.
The systems are particularly suitable for high-throughput running of sequential and easy-to-parallel programs. The theoretical computing capacity of the system is approximately 2.5 Tflops. The system administration of the clusters is done in co-operation between CSC and the university partners. The operating system, grid middleware and other core system software are maintained by CSC. Local administrators install the software needed by their own research groups, monitor the state of their cluster and manage and support local users. M-grid is based on HP ProLiant DL145, DL385 and DL585 servers equipped with 64 bit AMD Opteron processors (642 altogether). Each subcluster uses NPACI Rocks Linux distribution and NorduGrid ARC grid middleware. The system is also fully remotely manageable.
The University of Oulu has it's own AMD Athlon MP based cluster (94 processors) that is also joined to the M-grid but maintained by themselves.
Documentation
Instructions for users and other documentation is available on the separate documentation pages.
Security
To ensure availability to M-grid resources all users and administrators must follow agreed security policies and guidelines.

M-grid Users
Press releases
Presentations
Most presentations are in English, some are in Finnish.
Articles
All the articles are available in html or pdf format on the magazine home pages.
Partners
The academic partners participating in the project are Laboratory of Physics at Helsinki University of Technology, Department of Physical Sciences and Department of Chemistry at the University of Helsinki, the Helsinki Institute of Physics (HIP), Departments of Physics and Chemistry at the University of Jyväskylä, Department of Electrical Engineering at Lappeenranta University of Technology, Department of Physics and the Institute of Advanced Computing at Tampere University of Technology, Department of Physics at the University of Turku and Departments of Biochemistry, Chemistry and Physical Sciences at the University of Oulu.
The acquisition has been made possible by the infrastructural funding of the Academy of Finland.
More information:
Michael Gindonis, CSC (tel +358-9-4572269)
Kai Nordlund, University of Helsinki (tel +358-9-19150007)